Not your mom's meatloaf. Place the loaves on a sheet pan. The heat in this meat might actually scare your mother. This meatloaf might seem ordinary, but one bite will prove otherwise.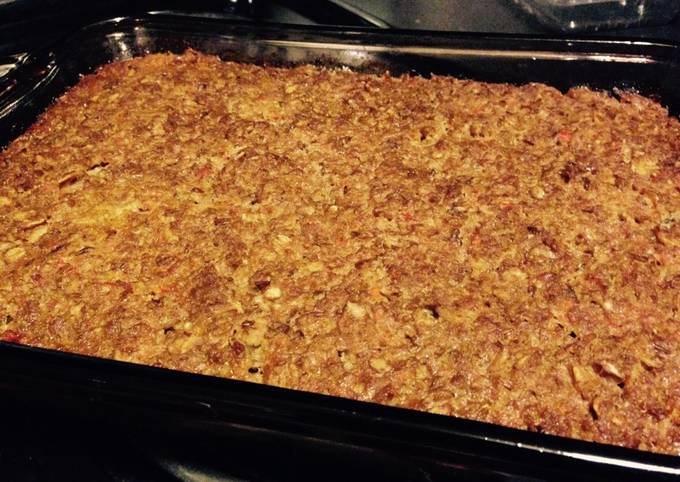 In large bowl, mix all ingredients except ketchup and brown sugar. Mix until just combined and then press into a greased bread pan. In a small bowl combine the glaze ingredients and brush half of the glaze on top of the meatloaf. You can cook Not your mom's meatloaf using 10 ingredients and 8 steps. Here is how you cook that.
Ingredients of Not your mom's meatloaf
Prepare 3 of carrots diced.
You need 1 pound of grass fed, organic lean ground beef.
Prepare 1 pound of organic lean ground turkey.
You need 1 can of low sodium diced or crushed tomatoes.
Prepare 1 of onion, diced.
You need 1 of bell pepper (green, red or yellow) diced.
Prepare 1 1/2 cups of whole oats.
Prepare 2 of eggs.
You need 1 teaspoon of sea salt.
Prepare 2 cups of cooked lentils.
Make sure to drain the loaf half-way through the baking. Add beef; mix lightly but thoroughly. Spread remaining mixture over meat loaf. Mix all the ingredients together in a large mixing bowl.
Not your mom's meatloaf step by step
Place diced carrots in a pot of boiling water for 3 to 5 minutes to soften them while you are mixing other ingredients.
Preheat the oven to 350°.
Line a 13 x 9" baking dish with parchment paper Place another piece of parchment paper on the counter.
Mix all other ingredients in a large bowl. It is best to do this with clean bare hands to make sure it is mixed well.
When carrots are lightly steamed, drain and add to mixture.
Remove mixture from bowl emplace onto the extra piece of parchment paper. Divide mixture in half, forming 2 loaves.
Place one loaf on baking dish, and cook for one hour.
Wrap other loaf with parchment paper then wrap with plastic wrap or foil, and freeze for another day.
Use your fingertips to combine everything well, but don't over-mix or compact the meat. I like to break up the meat into smaller pieces as I add it to the bowl to give the mixing a head start. Mix beef, onion, salt, tomato sauce, bread crumbs, egg, and pepper. Make into one large island and place in the baking dish. In a separate bowl, mix all topping ingredients and pour over meatloaf.