Hidden Veggie Meatloaf. Add your frozen broccoli and reduce heat to a simmer. Loosely cover the pot with a lid and steam until broccoli is tender when pierced with a fork. Let the broccoli cool, then put into the food processor and puree until smooth and creamy.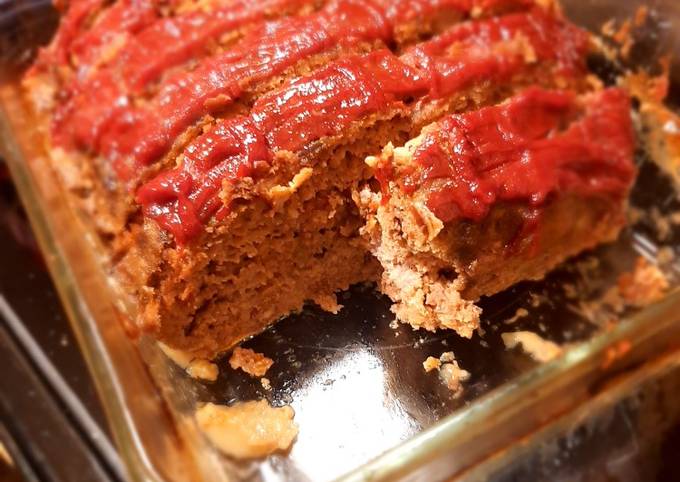 Combine ground beef, ground turkey, and the rest of the ingredients in a bowl until thoroughly combined. Slather this sauce over the whole meatloaf with a brush. Grease the cups of a muffin pan and set aside. You can cook Hidden Veggie Meatloaf using 13 ingredients and 4 steps. Here is how you cook it.
Ingredients of Hidden Veggie Meatloaf
It's 2 lbs of lean ground beef.
Prepare 1 lb of ground pork.
Prepare 1 of rib of celery, roughly chopped.
It's 1/2 of bell pepper, roughly chopped.
Prepare 12-15 of baby carrots (or 1/2 cup carrots, roughly chopped).
Prepare 1 can of unsalted tomato sauce.
It's 1/4 cup of water.
You need 1 1/4 cup of breadcrumbs.
Prepare 2 of eggs.
You need 1 tsp of onion powder.
Prepare 1 tsp of garlic powder.
You need 1 tsp of salt.
It's 1/4 tsp of black pepper.
Place the sundried tomatoes in a heatproof bowl and cover with boiling water. Roughly chop the yellow onion, carrot, zucchini, and mushrooms. Place in the bowl of a food processor along with the garlic cloves. Process until chopped but not pureed.
Hidden Veggie Meatloaf step by step
Place celery, bell pepper, carrots, tomato sauce and water in a blender. Blend into a chunky puree. You want to still have some texture to the veggies, but you don't want them detectable in your meatloaf..
Preheat oven to 350°F. In a large bowl combine the meats, veggie puree, breadcrumbs, eggs, and all seasonings. Mix with clean hands until all ingredients are thoroughly combined..
Transfer mixture to a large casserole dish or foil lined baking sheet then mold into short, wide rectangular loaf (I go for about 4"wide by 8" long)..
Bake uncovered for 1 hour. Remove from oven. Top with a thin layer of ketchup. Return to oven and bake an additional.30-35 minutes, or until cooked through..
Pre-cook frozen meatloafs are the perfect meal thats re-heated is moments! Our Meatloafs are packed with shredded broccoli, cauliflower and carrots, and the kids LOVE them! If using frozen veggies, cook them first and then use your food processor to save you time chopping/ricing the veggies. Mix all ingredients together and place in baking sheet. Optional topping: spread the top with sauce and breadcrumbs.