Best Damn Turkey Meatloaf. Mix ground turkey, crushed crackers, milk, onion, egg, garlic, salt, and black pepper in a bowl. Shape mixture into a loaf and place on the prepared pan. Line a baking sheet with foil.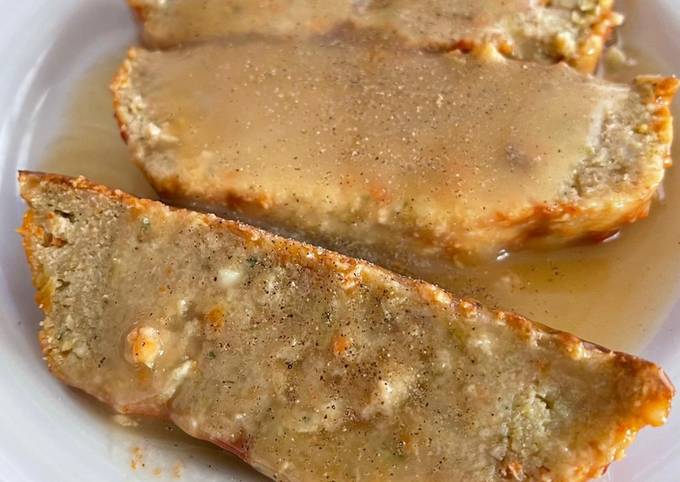 Season with salt and pepper then stir in garlic and herbs. I use a food processor, pulsing until mixed. Place panko and milk in a large bowl; stir until well combined. You can have Best Damn Turkey Meatloaf using 7 ingredients and 10 steps. Here is how you achieve that.
Ingredients of Best Damn Turkey Meatloaf
It's 1 pound of ground Turkey (85 15%. NOT 99% fat free.
You need 1 cup of bread crumbs.
You need 4 of eggs.
It's 4 slices of white bread.
Prepare of Carrots, onion, celery and garlic for a mirepoix.
You need of Salt, pepper,Worcestershire sauce, cumin powder, garlic powder, balsamic vinegar and chipotle sauce.
You need of Meatloaf Topping is ketchup, red wine vinegar, brown sugar and salt & pepper and Olive Oil.
Meanwhile, combine the breadcrumbs and milk in a small bowl. Stir the breadcrumb mixture and the eggs into the mushrooms and onions. The mixture will be very wet. directions. Add more egg if too dry, or add more oatmeal crumbs if too wet.
Best Damn Turkey Meatloaf instructions
Start by mincing your carrots, celery, onion and garlic. 3 carrots 3 celery stalks 1/2 Spanish onion 4 cloves of garlic..
In a full size sauté pan heat 2 table spoons of the oil and start adding the mirepoix. I start with carrots, then the celery and onion and garlic at the end. I salt & pepper, stirring over a simmer heat till all are softened. About 8-10 minutes.
In a large bowl I mix the entire package of turkey meat and begin seasoning it.
Teaspoon of salt, pepper, cumin and garlic powder. I add 1 cup of bread crumbs and the 4 eggs. Stir them well.
In a bowl of warm water, place the bread slices and soak. Squeeze excess water and place into bowl with turkey meat. Mix well. Now add 2 tablespoons of balsamic vinegar and 1 teaspoon of chipotle sauce Mix well.
When mirepoix is finished add to the seasoned turkey meat and stir well..
I use a baking mold in the shape of a small rectangle. It makes enough for 4 of mine, no matter how big yours are make sure they are all the same size to insure even cooking.
COVER SAUCE 1 cup of ketchup. 1/3 cup red wine vinegar. 2 tablespoons of brown sugar 1 table spoon of pepper. Additional salt if desired.
Cover each meatloaf generously with the sauce and place into a preheated oven of 350 degrees for 45-60 minutes..
Let cool and enjoy.
In a large bowl combine onion, crackers, eggs, garlic, ketchup, mustard, worcestershire sauce, and bouillon. Add ground turkey and knead together until fully incorporated. If mixture is too wet, knead in additional crushed crackers. Lightly spray with nonstick spray and set aside. In a large bowl, mix the turkey, breadcrumbs, milk, eggs, parsley, Worcestershire sauce, ketchup, salt, pepper, garlic powder, and onion powder until combined.