Turkey Meatloaf. Shape mixture into a loaf and place on the prepared pan. Mix ketchup, brown sugar, and Worcestershire sauce in a separate bowl; set aside. Turkey Stuffing Meatloaves and Mashed Potatoes with Herbs.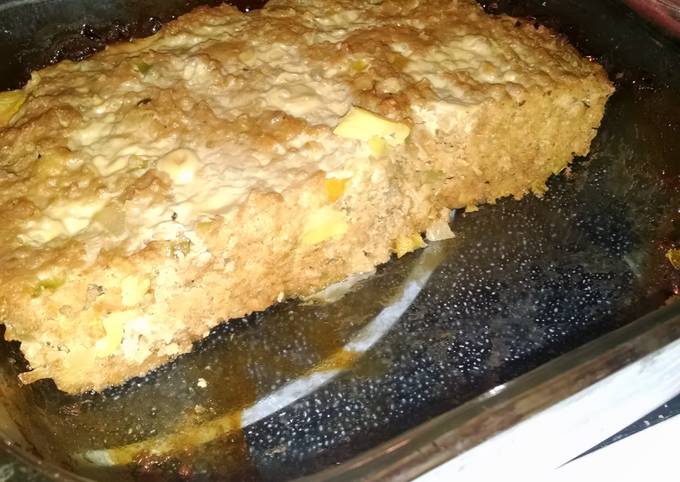 Spread the ketchup evenly on top. You can make this lean and delicious recipe with your choice of ground turkey or chicken. By Whole Foods Market (R) Melt butter in a skillet. You can cook Turkey Meatloaf using 22 ingredients and 6 steps. Here is how you achieve it.
Ingredients of Turkey Meatloaf
You need 1 1/4 lb of Turkey Meat.
You need 2 tbsp of butter.
Prepare 3 of Green Onions.
You need 1/4 cup of Bell Peppers.
It's 3 clove of garlic.
Prepare 1/4 cup of onion, chopped.
It's 1/4 cup of Planco Bread Crumbs.
You need 1/4 cup of Oatmeal.
It's 1/2 cup of ketchup.
Prepare 1 of Egg.
It's 2 tbsp of worcestershire sauce.
It's 2 tbsp of brown sugar.
Prepare 2 tsp of dry mustard or Dijon Mustard.
Prepare 1/3 cup of chicken broth.
Prepare 5 of Baby Blond Potatos.
Prepare of Salt and Pepper.
It's 2 tsp of paprika.
Prepare 2 tsp of garlic powder.
It's 2 tsp of onion powder.
Prepare 2 tsp of basil.
You need 1 tsp of thyme.
It's 1 packages of meatloaf seasoning g mix (above spice substitute).
Place turkey in a large bowl. Gently mix until ingredients are well combined. Melt butter in a small skillet over medium-high heat. Add ground turkey, breadcrumbs, egg, ketchup, Worcestershire sauce, pepper and salt, if desired to turkey mixture; mix well.
Turkey Meatloaf instructions
Saute all Veggies in butter little Evoo.
Boil potatoes then cut into quarters add to meat..
Add chicken broth dry mustard to meat enough broth to keep meat moist..
Add All ingredients mix to meat..
Cover with foil cook for 55 minutes at 375°F..
.
In large skillet over medium heat, heat oil. Season with salt and pepper then stir in garlic and herbs. Place mixture into a loaf pan or shape into a loaf and place on a baking pan. Meanwhile, combine the breadcrumbs and milk in a small bowl. Stir the breadcrumb mixture and the eggs into the mushrooms and onions.