Turkey Meatloaf W/Spinach & Feta Cheese. In a small skillet, saute onion in oil until tender; set aside. In a small bowl, combine the eggs, milk, lemon juice, salt, basil, oregano and pepper. Stir in the bread crumbs, spinach and reserved onion.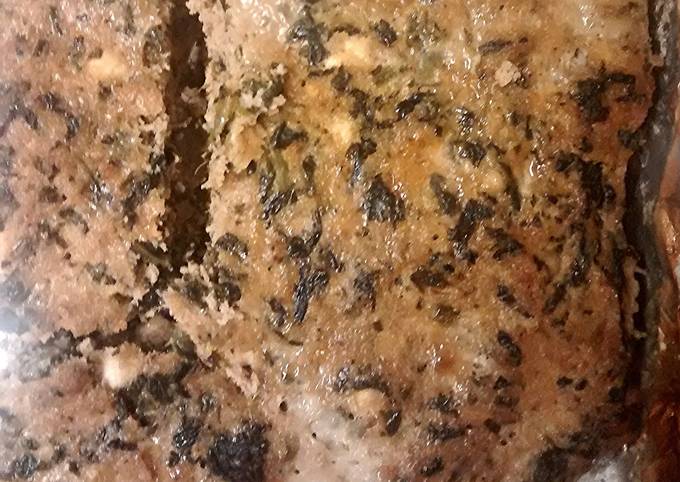 Place a slice in the center of the sauce and serve. Mix all of the 'Meat Mixture' ingredients into a bowl. Next, sprinkle on a layer of fresh spinach, followed by mozzarella. You can cook Turkey Meatloaf W/Spinach & Feta Cheese using 6 ingredients and 6 steps. Here is how you achieve that.
Ingredients of Turkey Meatloaf W/Spinach & Feta Cheese
You need 3 lb of Ground Turkey.
It's 2 cup of Bread Crumps.
You need 16 oz of Crumbled Feta Cheese.
You need 16 oz of Frozen Spinach.
You need 2 of Eggs.
You need of Kosher Salt, Pepper, Roasted Garlic Powder, Minced Onions, Parsley Flakes.
Using the aluminum foil to assist you, begin to roll the meat, removing the foil as you go. Place mixture into a loaf pan or shape into a loaf and place on a baking pan. Combine the ground turkey, bread crumbs, eggs, and onion mixture in a large bowl. Mix well and shape into a rectangular loaf on an ungreased sheet pan.
Turkey Meatloaf W/Spinach & Feta Cheese instructions
Defrost and drain frozen spinach..
In a big bowl, combine all the ingredients and seasonings to taste..
Mix well..
Grease a baking pan, then spoon mixture into it..
Heat oven to 350°F and cook for about 1 hour, or until turkey is done..
Enjoy!.
Spread the ketchup evenly on top. Shape mixture into a loaf and place on the prepared pan. Mix ketchup, brown sugar, and Worcestershire sauce in a separate bowl; set aside. Add the ground turkey, breadcrumbs, minced onion, minced garlic, shredded carrots, fresh spinach, shredded mozzarella cheese, ketchup, parsley, eggs, Worcestershire sauce, salt and pepper into a large bowl. Using a fork or clean hands, mix until everything is fully.