Easiest Way to Make Perfect Spanakopita (veg) traditional Greek pastry
Spanakopita (veg) traditional Greek pastry. Spanakopita is a classic, beloved Greek dish, made with fresh spinach, Feta cheese, and fresh herbs, all enclosed in layers of flaky, crispy, golden filo dough. Traditionally, the filo is rolled out by hand until paper thin, using a very long and pencil-thin rolling pin. In a medium bowl, mix together eggs, ricotta, and feta.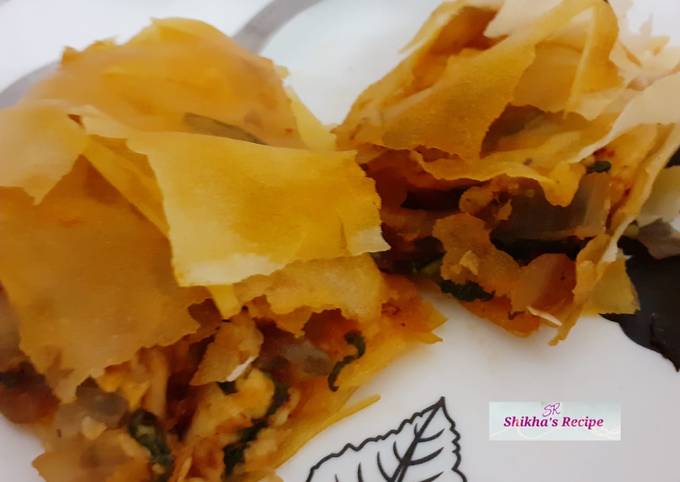 If you're not familiar with phyllo dough, it is basically layered sheets of tissue-thin pastry dough, typically found in the freezer section next to things like pie crust and puff pastry. Please, welcome the one and only Traditional Greek Spinach Pie, the famous Spanakopita. Tons of greens like sweet, earthy spinach leaves, herbs, tangy feta cheese encased in layers of homemade, crispy phyllo. You can cook Spanakopita (veg) traditional Greek pastry using 11 ingredients and 4 steps. Here is how you cook it.
Ingredients of Spanakopita (veg) traditional Greek pastry
Prepare of phyllo pastry sheets.
It's of spinach rinsed, drained and chopped.
It's of Onions diced.
Prepare of garlic chopped.
You need of olive oil.
Prepare of spring onion chopped.
Prepare of cottage cheese.
Prepare of melted Butter.
Prepare of black pepper.
It's of mix herbs.
You need of Salt.
Insanely delicious and unquestionably healthy, this vegetarian-friendly pie is going to be your new culinary achievement. Add the salt, stir, and transfer the mixture into a fine mesh colander. Squeeze the liquid out of the spinach mixture by pressing with a large spoon. In a food processor, add the cashews (drain and rinse them after the soaking), vinegar, water and salt.
Spanakopita (veg) traditional Greek pastry step by step
Preheat oven to 350 degrees. Grease a square baking tray with cooking spray. Heat olive oil in a pan over medium heat. Saute onion, green onions, and garlic until softened and just starting to turn colour Add chopped spinach..
Saute until spinach is warmed, about 2 minutes or so. add salt,black pepper and mixed herbs.add cottage cheese. Keep aside..
Melt the butter in a small sauce pan. Layer one sheet of phyllo into the prepared Grease tray. lightly brushing with the melted butter Now, repeat with 4 more sheets. fanning them in the tray so they overlap. Add the spinach mixture and spread evenly..
Fold in all four corners of the phyllo. you can layer the 5 remaining sheets (buttered in between each sheet) and just neatly tuck in the edges. Bake in preheated oven for 20-25 minutes. If the top is browning too quickly, cover loosely with foil mid-way through the baking process. The top should be golden and the filling warm inside. Test with a knife.Let stand for 5-10 minutes before cutting and serving..
Pulse until you get a chunky but coarsely chopped texture. Pour the cashew "feta" mixture into the bowl with the spinach and mix well. Pour the olive oil for brushing in a glass bowl. Spanakopita (Greek Spinach Pie) is a staple dish that our family serves for just about every holiday and gathering. Usually, we make a huge pan of it to feed all of the people we entertain.