How to Prepare Appetizing Authentic Indian Dal Makhani Recipe from a Restaurant
Authentic Indian Dal Makhani Recipe from a Restaurant.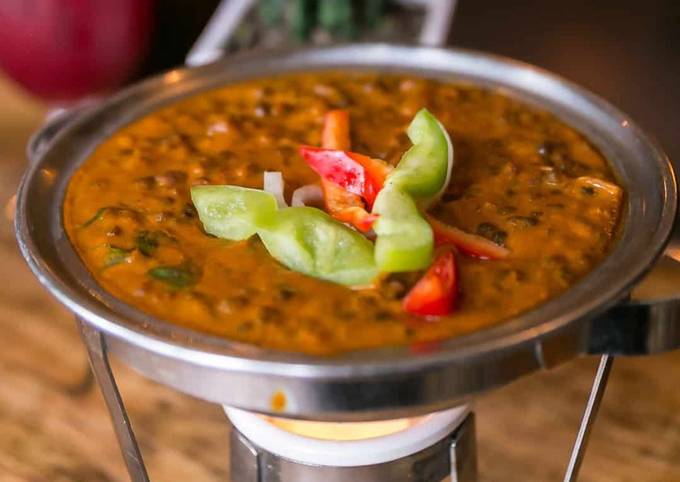 You can have Authentic Indian Dal Makhani Recipe from a Restaurant using 19 ingredients and 19 steps. Here is how you achieve it.
Ingredients of Authentic Indian Dal Makhani Recipe from a Restaurant
It's of To Cook.
It's 3/4 cup of whole black lentils (urad dal sabut) (160-165 grams).
Prepare 1 of quarter cup of rajma (red kidney beans) Approximately 60-70 gram.
Prepare 1 teaspoon of kosher salt.
You need 3.5 cups of water (28 oz).
It's of Masala for the Dal.
You need 1 tablespoon of ghee.
Prepare 3 tablespoons of butter divided, use salted butter if possible.
Prepare 1 of white onion (115 grams), finely grated.
It's 2 teaspoons of ginger garlic paste.
It's 1/2 cup of tomato puree.
It's 1/2 teaspoon of red chili powder.
You need 1/4 teaspoon of garam masala.
Prepare 1/2 teaspoon of salt to taste.
You need 1.5 cups of water (12 oz) as needed.
You need 1/2 teaspoon of sugar.
You need 1/4 cup of cream (60 ml).
It's of Butter for serving.
Prepare of Optional: a piece of charcoal to add a smoky taste to the dal.
Authentic Indian Dal Makhani Recipe from a Restaurant instructions
In a big mixing cup, soak urad dal and rajma overnight..
Drain the water and add 1 teaspoon of salt to the rajma and dal in a pressure cooker..
Add about 3.5 cups of water. Allow 10 minutes for the pressure cooker to whistle, then reduce to low-medium and cook for another 10 minutes. It took me about 15-20 minutes in total..
Next, mash rajma and dal with your fingers. You can use a potato masher. Then turn the heat to the lowest and let the dal simmer while you make the masala..
Begin preparing masala in a large pot or pan. Add two tablespoons of butter and one tablespoon of ghee on medium flame..
Once the butter is melted, you can add the finely grated onion..
Cook onion for about 6 to 7 minutes or keep until it's golden brown. Keep stirring it continuously so that it does not burn..
Add ginger-garlic paste and cook for 1 to 2 minutes until the uncooked smell goes away..
Add tomato puree and mix..
Cook for around 2 minutes, or until the puree is well combined with the masala and the oils begin to ooze out the sides..
Mix in the dal that has been boiled. Garam masala, Kashmiri red chilli powder, and salt are also added. To merge everything, mix it all together..
Pour in half a cup of water and stir to combine..
Cook for 45 minutes on low heat, unwrapped. When pouring half a cup of water, stir often..
Mix sugar. Then add 1 tablespoon butter and ¼ cup cream..
Simmer for ten more minutes on low heat after putting in the cream. Dal will become creamy by now..
Place a steel bowl on top of a vessel placed inside the dal if you want to add a smoky taste. Then, over direct fire, heat a piece of charcoal until it boils..
Put hot charcoal in that steel bowl on the top. Pour melted ghee on top of the charcoal..
Lastly, close the pan with a lid. Let it stay for 2 minutes. Afterward, remove the top and the bowl from the dal..
The longer you keep the lid closed, the smokier it will get. Garnish it with cream and serve with a pat of butter..