Mini Korean Meatloafs. Korean BBQ is sweet and tangy and brings a bit of spice. Take your regular meatloaf and add in a little Asian flair, and that's what we've got here. The majority of the ingredients in this recipe you can easily find in any American grocery store.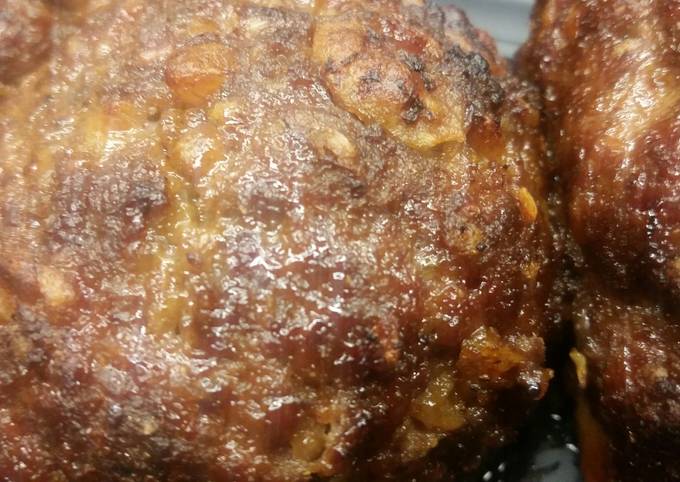 Combine the cooled onion mixture with the minced green onion, gochujang, eggs and kosher salt. Put the ground pork and breadcrumbs in a large bowl. Add the onion gochujang mixture and mix gently. You can cook Mini Korean Meatloafs using 17 ingredients and 6 steps. Here is how you achieve it.
Ingredients of Mini Korean Meatloafs
Prepare 2 lb of ground beef.
Prepare 1 of bottle Annie Chung's Go Chu-Jang Korean cooking sauce.
You need 3/4 cup of soy sauce.
Prepare 2 tbsp of dried minced onions.
You need 1 tbsp of ginger paste.
Prepare 1 tbsp of garlic paste.
Prepare 1 tbsp of crushed pepper flakes.
You need 1 tbsp of toasted sesame seeds.
Prepare 1 tsp of ground white pepper.
You need 1/2 cup of brown sugar.
Prepare 1 of bunch scallions; minced.
It's 2 stalk of celery; small dice.
It's 1 stalk of leek; minced.
Prepare 1 can of french fried onions.
Prepare 1 envelope of dried soup mix.
Prepare 2 of eggs.
It's 1 of pinch kosher salt and white pepper.
Mix together beef, egg, bread crumbs, sriracha, soy sauce, garlic, ginger, and oil. For the glaze whisk together cornstarch and sesame oil in a saucepan over medium heat. Add in soy sauce, rice wine vinegar, sugar, sesame seeds, garlic, and ginger and stir. Line a rimmed baking sheet with foil, then coat foil with cooking spray (this makes cleanup MUCH easier).
Mini Korean Meatloafs instructions
Combine Go Chu-Jang, soy sauce, ginger paste, garlic paste, brown sugar, sesame seeds, and pepper flakes together in a small mixing bowl. Whisk..
Season beef with dried onion soup mix and salt. Add eggs, scallions, celery, and leeks. Crumble fried onions to consistency of large, coarse panko bread crumbs to use a binder. Toss to combine..
Add wet ingredients. Toss to combine..
Form into compact, mini meatloafs..
Bake at 300° for approximately 1 hour or until thermometer reaches 155°.
Variations; Chili powder, lemon, lemongrass, lime, caramelized onions, cayenne, fresh ginger/garlic, sesame oil, habanero.
In a large mixing bowl, combine the egg, soy sauce, brown sugar, sesame oil, scallions, garlic, and ginger. When sugar has completely dissolved, add the panko and stir, then add the beef. In a large bowl, combine the egg, milk, cheese, oats and salt. Add the ground beef, mixing well, and form this mixture into eight miniature meatloaves. In a separate small bowl, combine the ketchup, brown sugar and mustard.